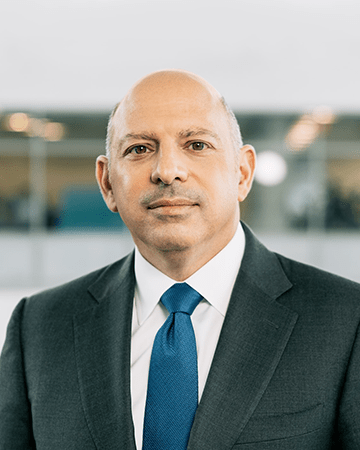 David Brickman
Executive Chairman
David Brickman was recently named Executive Chairman of Meridian Capital Group, and upon completion of the sale of Barings Multifamily Capital to a joint venture between Barings and Meridian, he will assume the role of Chief Executive Officer of Barings Multifamily Capital. In these interrelated roles, Brickman will work closely with Meridian CEO, Ralph Herzka, and President, Yoni Goodman, to chart the strategic direction for Meridian. In addition, Brickman serves as a Senior Advisor to Stone Point Capital LLC, an investment firm focused on the global financial services industry and related sectors.
Through January 2021, Mr. Brickman was Chief Executive Officer of Freddie Mac, one of the largest providers of mortgage financing in the U.S. Prior to that he was President. He also served as a member of the company's Board of Directors. During his tenure he led the 2+ trillion-dollar company through a period of significant growth, change, and disruption as the company successfully navigated the challenges of the COVID crisis and associated recession.
Mr. Brickman spent most of his career at Freddie Mac working in and leading the Multifamily business, where he presided over a remarkable period of growth – raising annual production from $16 billion in 2010 to almost $80 billion in 2018. He also established the company's flagship K-Deal securitization program as one of the leading securitized products in the structured finance markets. Mr. Brickman also drove significant innovation and an expansion in Freddie Mac's products and offerings – particularly those serving the growing need for affordable and workforce housing.
Mr. Brickman completed all doctoral coursework for the Ph.D. program in economics and real estate at the Massachusetts Institute of Technology. He holds a master's degree in public policy from Harvard University and a bachelor's degree from the University of Pennsylvania. He has also held appointments as a Professorial Lecturer at George Washington University and an Adjunct professor at Johns Hopkins University and he is the holder of a U.S. Patent for a unique mortgage-backed security structure.